FARE® umbrellas are eye-catching with elegant details, refined contrasts, and personality.
Style is no longer the preserve of iconic Hollywood stars, but also of extraordinary people who can visibly show their personal message to everyone. Social media has laid the foundations for a new understanding of style: Individuality and creativity count more than ever right now.
Made large for men
The AOC-Oversize mini umbrella FARE®-Steel guarantees a stylish appearance: The special feature of this oversize mini umbrella already becomes obvious the first time you touch it in its shapely sleeve: "Heavy Metal" is to be taken literally here, as the leather-look handle has been combined with chrome-plated metal elements. The top and the joints were made with shiny metal. There's no need to miss out on the technical side either: The auto open/close function enables fast opening and closing and the windproof system allows use even in stronger gusts of wind.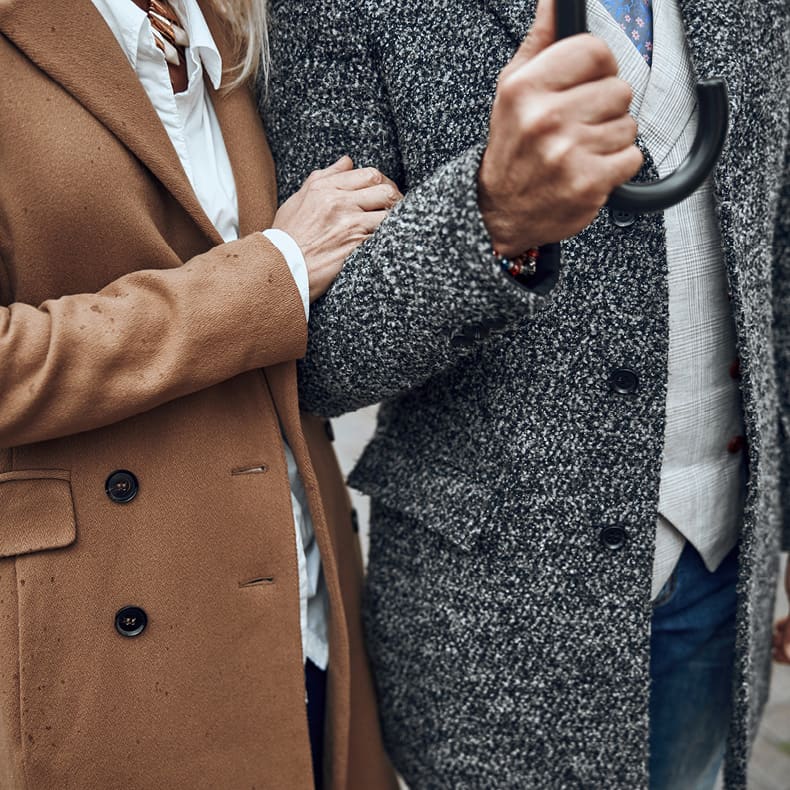 A true gentleman
The FARE®-Steel not only protects two people from sudden rain showers thanks to its oversize, but also the environment thanks to the waterSAVE cover material. The STANDARD 100 by OEKO-TEX® certified polyester pongee cover material made from recycled plastics is dyed using a new method. This reduces both the consumption of energy and valuable raw materials, as well as the pollution of the environment with harmful substances. A top product as an incentive or high-quality customer gift. Finishing by screen printing on the panel, closing strap or sleeve is possible. In addition, the elegant handle offers a doming option.
The umbrella as an advertising ambassador
An umbrella symbolises protection and is therefore a special advertising ambassador at a time of uncertainty. Bucksch GmbH (the regional head office of Basler Versicherungen) also wanted to convey a positive message to its customers during the contact ban. The insurance company, together with a distribution partner and FARE, therefore developed a nice mailing idea: The "Coronavirus rainbow" was integrated into the existing letterhead of the insurance company. Together with a high-quality umbrella, the AOC-Oversize mini umbrella FARE®-Steel, this package was sent as a single shipment to about 50 customers. Customers liked the contact via mailing and the message "Everything will be fine" in combination with a high-quality umbrella as a present.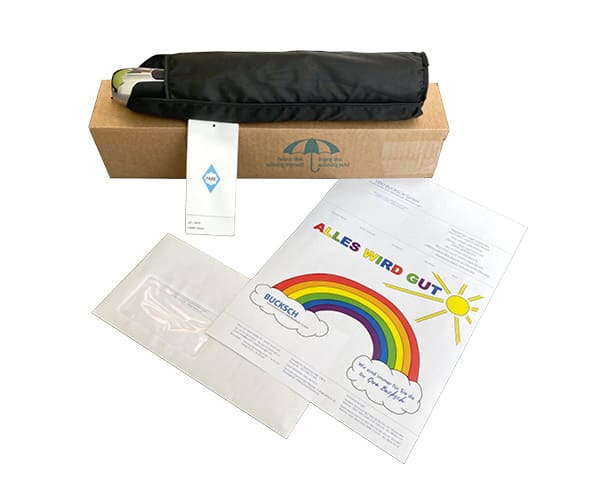 Elegant umbrellas
For enthusiasts of the classic art of umbrella making, FARE® offers even more models.