FARE receives "ECOPROFIT Company" award
After a digital examination lasting more than two hours by two employees of the city of Remscheid and one employee of the Efficiency Agency, we have successfully passed the ÖKOPROFIT audit..
ÖKOPROFIT
is a project funded by North Rhine-Westphalia and involving the cities in the Bergisches Land region and their business development agencies, the Chamber of Industry and Commerce in Wuppertal, Remscheid and Solingen, and the regional agency for the
Bergisches Städtedreieck.
FARE participated in the 11
th
project round with another 8 companies.
This project is about enabling an exchange of experience and to provide information on the topic of environmental protection through on-site consultations, joint workshops and networking.
The aim is to combine
economy
and
ecology
, save costs and thus make a positive contribution to environmental protection and reduce operating costs.
More about us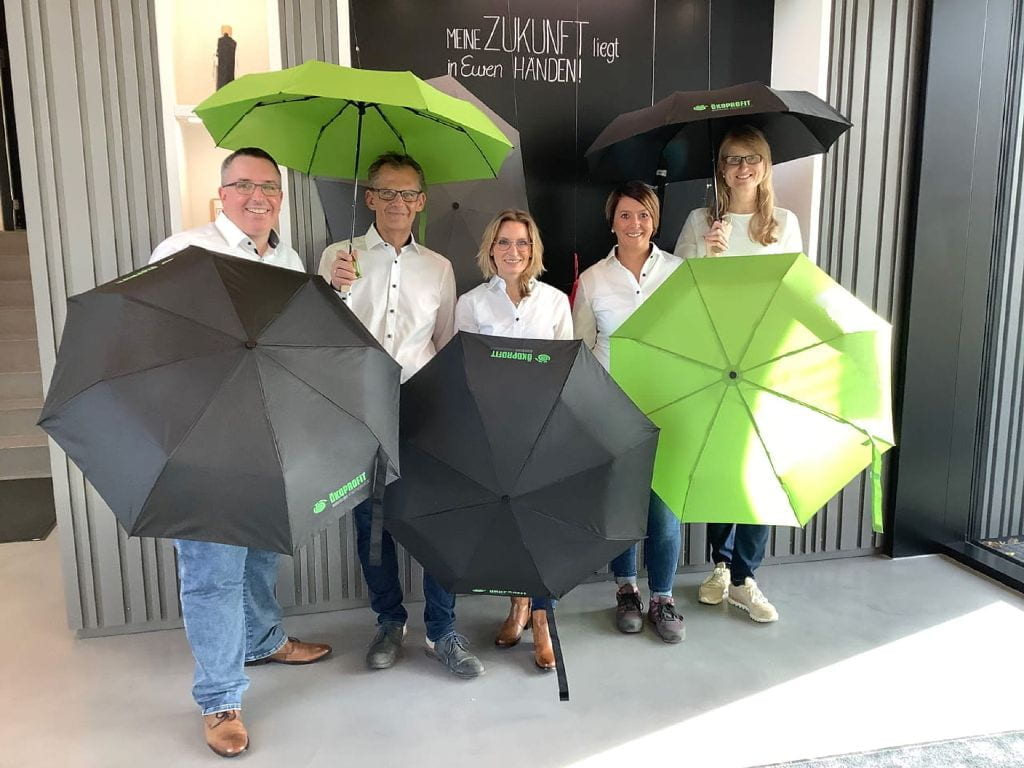 The environmental team
As part of the project, FARE developed its own environmental programme and implemented it over the project period of 13 months The FARE environmental team, consisting of employees from various departments, worked on the development and implementation of various measures and finally, at the end of 2021, after successfully completing the audit, received the award as an "ECOPROFIT Company". During the project, the FARE environmental team also received support from ECOPROFIT consultants. They looked at FARE's operations, advised and trained the environmental team members. The environmental team was responsible for identifying and implementing the improvement measures and for involving and motivating the rest of the staff.

Team Members:
Sebastian Hahn (Merchandise Management & Logistics), Frank Schmidt (Occupational safety, fire protection, building & fleet management), Sarah Vennewald (Marketing) and Maria Forte (General Services)
The measures implemented were recorded in an environmental chronicle and the investment sum was compared to the savings or benefits. For example, switching to green electricity and green gas did not cause any costs, but the savings amounted to EUR 740 and 144t CO². Other measures included the creation of a sustainable procurement guideline, switching to recycled paper with the "BLUE ANGEL" eco-label, installing water-saving buttons in sanitary facilities, purchasing e-charging stations and calculating the corporate carbon footprint and offsetting the unavoidable emissions through two different climate protection projects.

The savings since the introduction of the environmental programme amount to: EUR 1,394.00, 113.4 m³ water, 5,780kWh energy and 365.1t CO². This great success motivates the company to continue expanding the environmental programme in the future. For example, at the beginning of the year, the product portfolio of umbrellas with waterSAVE® cover material was expanded to include additional colours and models. Umbrellas with waterSAVE® cover material use recycled plastics for the cover fabric. The cover is then dyed in a resource-saving process without the use of water or chemicals.
Further projects are being planned
The environmental team will continue to exist beyond the ECOPROFIT project as a source of ideas and motivators and will be responsible for the implementation of the projects.