Our sister companies – the CHOICE Group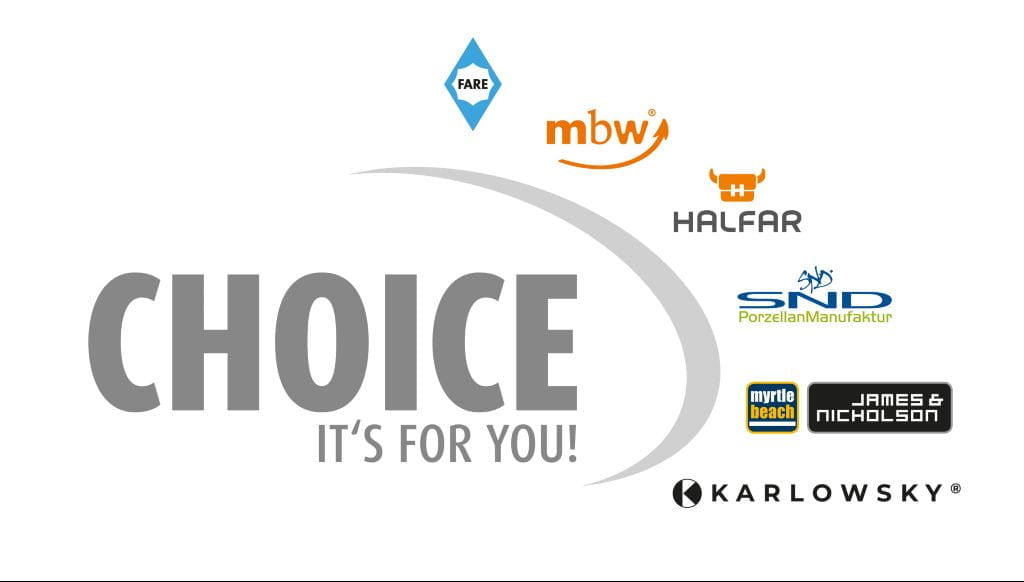 Since 2006,
JCK Holding GmbH Textil KG
has been a partner in FARE and has created valuable synergies through its global presence in sales and procurement. It is the umbrella organisation of a diverse and high-performing group of companies, which has operations throughout the world. As a management and investment company, JCK provides its subsidiaries with an excellent infrastructure, especially through its global orientation and its particularly strong presence in Asia. The decisive factor for the strategic planning for and safeguarding of the future is the responsible and constructive collaboration of all the subsidiaries, our partner companies.
Halfar System GmbH
HALFAR®'s heart beats for one thing only: Advertising. Advertising on bags and backpacks as promotional products. Whether brash and colourful or using subtle tones and understatement - thanks to our enormous range of bags, backpacks and design refinements made in-house, we provide products and companies with precisely the stage they need on which to present themselves. Naturally we are able to provide bags from our stock with or without refinements, as well as custom-made products and European productions. Whatever advertising you might require on our bags, we are happy to advise you.
www.halfar.com
daiber (Gustav Daiber GmbH) FASHION – LIFESTYLE – SPORTS
With a wide range of caps, accessories, sportswear and leisure wear as well as workwear the brands James & Nicholson and Myrtle Beach have positioned themselves as the leading manufacturer of promotion wear and workwear in Europe. With more than 100 employees on the Albstadt site we specialize in functional clothing and customized decoration. In our in-house factories we offer you a huge variety of decoration techniques for your logo or image motif to be shown to advantage as a transfer or an embroidery.
www.daiber.de/en/
mbw - in the north of germany
MBW, based in Wanderup near Flensburg, specializes in purchasing and decorating representational promotional gifts. MBW's success started in 1980 with the long runner, TALMU reflectors for pedestrians for road safety. Here MBW has had a leading market position to this day. Other bestsellers followed, such as the plush line and soft toys with Öko-Tex certification, or phthalate-free PVC-products and mascots.
www.mbw.sh
SND Porzellan Manufaktur GmbH
SND PorzellanManufaktur is known for years as a leading producer of high quality promotional porcelain. SND is an owner managed family business with over 50 committed employees. SND stands for quality, reliable delivery times and a fair and transparent price policy. SND produces on the traditional and famous German Porcelain Route in Thuringia. SND offers premium quality. The entire finishing process and quality control for each individual mug takes place in our porcelain production in Thuringia, Germany. Our consistent high standard shows that German workmanship offers you convincing advantages.
www.snd-porzellan.de
Karlowsky Fashion GmbH
With its modern, innovative workwear collections for gastronomy, medicine, care and wellness,
Karlowsky Fashion
is one of the most significant international players in the industry. The family-run company, now in its fifth generation, works with the highest passion and understands like no other how to combine the latest fashion trends with maximum functionality. Always with its finger on the pulse, the traditional manufacturer from the heart of Germany is a pioneer in the field of sustainability. Awarded with international certificates, Karlowsky develops workwear according to the strictest social and ecological criteria.
Feel the Passion - Innovative Workwear est. 1892!
www.karlowsky.de/en/home/
WerbeART - the information site about promotional items
The
WerbeART.info
platform is the result of the initiative of eight renowned promotional product specialists and suppliers who contribute their respective experience and passion for the various products. Interested users, i.e. companies and potential buyers of promotional products, as well as trainees or newcomers to the industry, can find all the basic knowledge on the subject as well as specialised promotional products wikis. Experienced promotional products consultants can also get well-founded argumentation help on the effect of promotional products as well as access to current study results.
Explore the WerbeArt homepage