This is our history
---
2020 to today: Unexpected challenges and digitalisation
2021
An unusual start to the new year: due to the ongoing pandemic situation, PSI only takes place digitally this year. Therefore, new ways of informing the industry about the new umbrellas were found. As a presence trade fair, PSI has been postponed to January 2022.

The FARE® DoggyBrella, an umbrella with a very special additional benefit, received the Red Dot Design Award in the Product Design category. Its removable handle is filled with a roll of dog waste bags. It is also elegantly printed with paw prints all over – a must-have for any dog owner.

FARE is launching the #waterSAVEchallenge in support of the organisation viva con agua. All dealers in germany are invited to take part. With every waterSAVE® umbrella sold, FARE donates 6 cents per litre of water saved to viva con agua for concrete projects such as water filters, hygiene workshops etc. The industrial customer who has decided in favour of the waterSAVE® umbrella model receives the donation certificate for the supported project.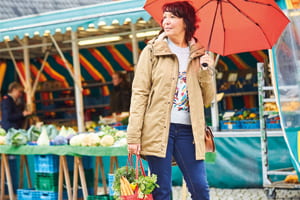 2020
This year FARE celebrated its 65th anniversary. An actual celebration could not take place, but nevertheless there were many exciting events. Customers were able to benefit from special promotional offers this year.

In March, the FARE feed went online: a new section on the homepage with a mix of exciting stories and useful facts about current issues, campaigns and products.


As the campaign progressed, FARE reacted flexibly to the current situation and added masks to its programme. The reusable community mask FARE®-Mundschirm can be designed online by customers thanks to an introduced mask designer. Another milestone was the introduction of a new cloud-based ERP (enterprise resource planning) system in August. This has put FARE in a competitive and innovative position for the digital future.


This was also a thoroughly exciting year at the product level. Once again, two new products were able to convince the juries and win an award: the oversize pocket umbrella FARE®-AOC Colorline is the red dot winner 2020 and the AC midsize umbrella FARE®-Sound won the Promotional Gift Award 2020.


The introduction of the waterSAVE cover material at the beginning of the year represented an innovation in sustainability. This combines the use of recycled plastics with a sustainable dyeing process. This resource-saving process was used for three new products and the popular Style series. The cover material was also certified according to STANDARD 100 by OEKO-TEX®.


The popular Welcome Home Tour takes place contactless for the first time: With a virtual exhibition hall, combined with live presentations via video chat, the participating companies have created a new home for the tour.


FARE received an award in the new category of the Sustainability Awards "Innovator of the Year". The resource-saving production made of waterSAVE® cover material and the fact that all companies along the value chain – from the manufacturer to the end customer – fulfil an exemplary function in terms of sustainability were what convinced the jury.
2010 to 2019: Further growth and more highpowered marketing campaign
2000 to 2009: FARE continous to grow
1990 to 1999: The question of succession is resolved
1980 to 1989: The first global innovation
1970 to 1979: Concentrating on promotional umbrellas
1960 to 1969: FARE expands
1950 to 1959: The founding years