Datasheet
Item 1134 natural white wS
AC regular umbrella ÖkoBrella
Attractively priced, sustainable automatic regular umbrella with cover material made of recycled plastics


details and videos

waterSAVE®
Original waterSAVE® cover material - saves energy, protects water and the environment

AC (automatic open)
Umbrella opens automatically at the push of a button.

Windproof features
Windproof features means that the umbrella has higher frame flexibility and better wind stability in comparison with frames without windproof features. FARE models in the lower cost price segment have windproof features. This means that the umbrella frames are more flexible and stronger in the wind in comparison with umbrellas without windproof technology.

Eco friendly
Umbrella models which are made out of ecofriendly materials.
In stock
| Ready to ship in 3-5 business days
Description
Convenient automatic function for quick opening,windproof features for higher flexibility and stability in windy conditions, flexible fibreglass ribs, polyester pongee cover material made of recycled plastics, depending on the colour, also available with waterSAVE® cover material and with waterSAVE® label on the closing strap (with new deliveries), real wood tips, crook handle made of genuine wood, higher corrosion protection due to black galvanised steel shaft
Awards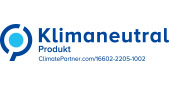 Brands

Promotional labelling
Screen printing closing strap
Technical details
Cover
100% Polyester pongee (recycled & waterSAVE®)
Comparable Pantone
11-4300TPX
Packaging unit
48 piece(s)
Download product data sheet