Item 9159 lime
Mini umbrella ÖkoBrella Shopping
Sustainable manual open mini umbrella with shopping bag Learn more

Windproof system
Maximum frame flexibility with wind-related handling - only premium FARE models feature this technology. The windproof system means that the umbrella can withstand strong gusts of wind. It turns inside out in extremely windy conditions but does not break. The ribs do not break and bend.

Eco friendly
Umbrella models which are made out of ecofriendly materials.
In stock
| Ready to ship in 3-5 business days
Description
Easy to handle thanks to safety runner, high quality windproof system for maximum frame flexibility in stormy conditions, STANDARD 100 by OEKO-TEX® certified polyester cover material made of recycled plastics, comfortable Soft-Feel handle with elastic loop and promotional labelling option, sleeve with zipper can be used as a reusable shopping bag with compartment for the umbrella
Awards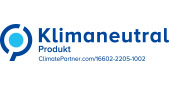 Promotional labels
Screen printing closing strap
Siebdruck Futteral 2-fach
Technical details
Cover
100% Polyester pongee (recycled)
Packaging unit
48 piece(s)
Download product data sheet

Incl. VAT
|
plus costs of delivery
Als Privatkunde können Sie diesen Artikel in unserem Privatkundenshop
www.fabrella.de
bestellen.