Item 9158 lime wS
Pocket umbrella ÖkoBrella Shopping
Sustainable manual opening mini umbrella with shopping bag Learn more

waterSAVE®
This article ist colour-dependent (wS colours) available with original waterSAVE® cover material - saves energy, protects water and the environment

Windproof system
Maximum frame flexibility with wind-related handling - only premium FARE models feature this technology. The windproof system means that the umbrella can withstand strong gusts of wind. It turns inside out in extremely windy conditions but does not break. The ribs do not break and bend.

Tragetaschenfutteral
The pocket umbrella cover becomes a practical shopping bag

Eco friendly
Umbrella models which are made out of ecofriendly materials.
In stock
| Ready to ship in 3-5 business days
Description
Easy to handle thanks to sliding safety runner, high-quality windproof system for maximum frame flexibility in stormy conditions, polyester Pongee waterSAVE® cover material made of recycled plastics and dyed using a water-saving process, wooden handle with promotional labelling option, sleeve with zipper can be used as a reusable shopping bag with compartment for the umbrella
Awards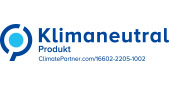 Promotional labels
Screen printing closing strap
Siebdruck Futteral 2-fach
Technical details
Cover
100% Polyester pongee (recycled & waterSAVE®)
Packaging unit
48 piece(s)
Download product data sheet

Incl. VAT
|
free shipping
Als Privatkunde können Sie diesen Artikel in unserem Privatkundenshop
www.fabrella.de
bestellen.