Item 2385 lime wS/black
AC golf umbrella FARE® Doubleface XL Vent
Exclusive automatic golf umbrella for two people with drop motif on the fibreglass shaft Learn more

waterSAVE®
This article ist colour-dependent (wS colours) available with original waterSAVE® cover material - saves energy, protects water and the environment

Windproof system
Maximum frame flexibility with wind-related handling - only premium FARE models feature this technology. The windproof system means that the umbrella can withstand strong gusts of wind. It turns inside out in extremely windy conditions but does not break. The ribs do not break and bend.

AC (auto open)
Umbrella opens automatically at the push of a button.

EXCLUSIVE FARE®
EXCLUSIVE FARE® labels identifies products which are exclusively developed and produced by FARE or for FARE.
Available colours
Colour:
naturewhite wS/black
In stock
| Ready to ship in 3-5 business days
Description
Convenient automatic function for quick opening, high-quality windproof system for maximum frame flexibility in stormy conditions, flexible fibreglass ribs, stable fibreglass shaft with drop motif, polyester Pongee waterSAVE® cover material made of recycled plastics and dyed using a water-saving process, with waterSAVE® label on the closing strap with new deliveries, cover coated on the inside, overlapping ventilation cover to regulate pressure in stronger gusts, exclusive soft handle with coloured handle rings, integrated pushbutton and promotional labelling option, drop motif and handle rings colour-coordinated with the cover.
Awards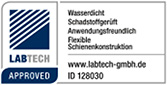 Promotional labels
Screen printing closing strap
Technical details
Cover
100% Polyester pongee (recycled & waterSAVE®)
Comparable Pantone
377c, blackC
Packaging unit
12 piece(s)
Download product data sheet

Incl. VAT
|
free shipping
Als Privatkunde können Sie diesen Artikel in unserem Privatkundenshop
www.fabrella.de
bestellen.