Datasheet
Item 1112 navy wS
AC regular umbrella FARE® Collection
Wind resistant regular umbrella with convenient automatic function


details and videos

Windproof system
Maximum frame flexibility with wind-related handling - only premium FARE models feature this technology. The windproof system means that the umbrella can withstand strong gusts of wind. It turns inside out in extremely windy conditions but does not break. The ribs do not break and bend.

AC (automatic open)
Umbrella opens automatically at the push of a button.

Teflon™ fabric protector
Teflon™ fabric protection - Teflon™ is well known for its non-stick properties. Teflon™-coated umbrellas are treated with Teflon™ fabric protector and are highly water-repellent and stain-resistant. The coating forms an invisible protective layeron the shade, ensuring that water and oil roll off reliably and dirt can be removed easily.
Description
Convenient automatic function for quick opening, high-quality windproof system for maximum frame flexibility in stormy conditions, flexible fibreglass ribs, sturdy steel shaft with higher corrosion protection due to galvanisation, water and dirt repellent cover properties through original Teflon™ fabric protector, depending on the colour, also available with waterSAVE® cover material and with waterSAVE® label on the closing strap (with new deliveries), Soft-Touch handle and top
Awards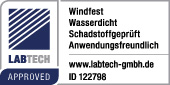 Promotional labelling
Screen printing closing strap
Technical details
Cover
100% Polyester pongee (recycled & waterSAVE®)
Packaging unit
24 piece(s)
Download product data sheet