New visitor?
You will get an overview about the possibilities of our online-portal here.



Step by step PDF
Need a login?
Please get in contact with your FARE contact person or write an e-mail. We will provide you with your personal login data!

Request login
Forgotten password?
If you don't remember your password fill in your user name or email-address and use the "forgotten your password" link.

Login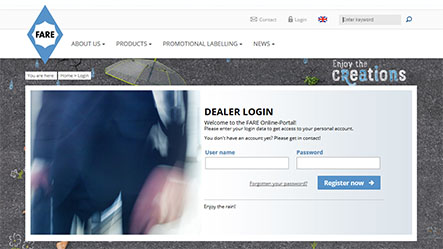 New features available!
Availability & incoming quantity


You always have access to our stock-availability and the expected incoming quantity and calender week. In addition you have an hourly updated download file with our stock information available to be imported to your erp-software or online shop!

TIP: You can show/hide the stock information as needed using the product listing view for our products

Show products

Protected access to promo sites


As requested promo sites showing prices and availability are now protected with a password that you can choose. Make use of getting in contact with your customers asking for access and provide login data on demand.

Create promo site

Tracking informationen / part-deliveries


You will automatically receive tracking-informations by mail after shipment - for part-deliveries as well.

Automation/ XML-import


It is possible to integrate your erp-software directly! Provide your orders using XML and you will receive order confirmations and status updates automatically.